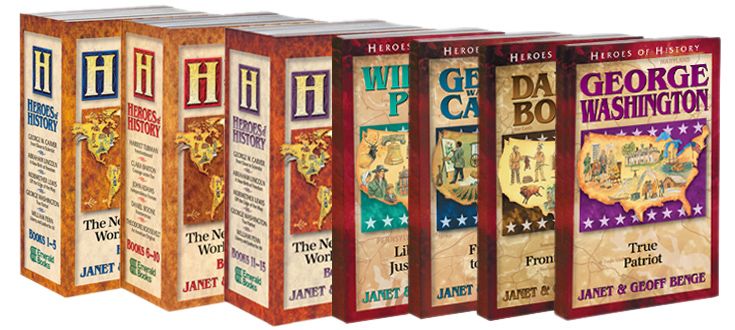 After hearing so many great things about YWAM Publishing I was super excited to be chosen to do a review of the Heroes of History book "Thomas Edison: Inspiration and Hard work." This is a really good book that presents the life and work of Thomas Edison in a story format. It is not a stiff text book style at all, and makes for a very enjoyable read. For this review I received both a physical copy of the book, as well as a physical CD-Rom disk for the curriculum guide unit study. This link will take you directly to the downloadable guide.
How We Used This:
Mr. B really enjoys bedtime stories being read to him, so we used this book as our nightly read aloud. He really enjoyed the learning material, and it was great that it was presented in such a way that he was able to listen to it before bed and not get too worked up to sleep. If you have ever watched the series, "Liberty's Kids" about the Revolutionary period then you may be familiar with the format. I liken it to a book version of that series. It uses real history to tell stories of his life in a fun way.
We also used the curriculum guide to go over specifics in terms of comprehension style questions and vocabular/spelling words. The guide also has a list of great essay question options, but we are not quite to the essay writing level, so we skipped those. One thing I really enjoyed about this guide is that it is written for 1 student to work on, but easily adaptable for a group. So often I find great products, but many of the activities are intended for multiple students. While that is great if you have multiple children, I only have the one. So it is a breath of fresh air to find studies and activities that are written for a solo student.

Another favorite is the list of quotes that you will find at the beginning of the guide. These are great as inspirational messages, copy work, writing prompts, discussion points, etc.

Even though I found the guide to be a bit "wordy" and wished there were more photos, printable activities, and the like, I did find the list of activity suggestions to be quite helpful and thought provoking. Having web addresses included to show maps of various places in the book is also a huge plus.
The guide does mention some experiments one can duplicate that are talked about in the book also. We chose to make a telegraph Now, we all know Edison did not invent the telegraph, but he did make some improvements to it and his work with telegraphy shaped his career. The book begins with him showing his phonograph to a group of men, and the men being amazed. This invention, and many of his others, was made possible because Edison worked as a telegraph operated, and he used his extensive knowledge to basically change life around the world with the likes of the phonograph and movie camera. Holding nearly 1100 patents, it's interesting to remember that Thomas Edison only had 3 months of formal education. In other words, he was homeschooled!!!!!

As I said before, we decided to create our own telegraph. We used 2 brads, a small piece of foam, 2 rubber bands, a small piece of cardboard, a nail, a D-Cell batter, 2 paperclips, some sand paper, magnet wire and a general copper wire.
We began by wrapping the wire around the nail about 100 times, leaving about 8" of wire at each end. Then we used the sand paper to remove the enamel from about 1" of each end of the wire. AFter that we attached the ends to each end of the battery using the rubber band to hold it in place. This was to test it to make sure it worked. This will create an electromagnet. Next we took the nail and stuck it in the foam. We partially straightened a paper clip to go over the wrapped nail. We used the brads, as you can see below. On one side of a slightly separated paperclip we have one brad securely in the curve with part of the magnet wire wrapped around it. On the other end the clip is positioned just above the brad with the ends of a regular rubber covered copper wire wrapped around the brad and attached the "-" side of the batter. When you tap the paperclip against the brad you complete the circuit that is built, thus creating the electromagnet. This draws the paperclip to the nail creating a click sound.
The finished product. We had some issues with proper spacing, but a little tweaking here and there fixed it. It's a fun and quick little project to try out, and to get a feel for the life and times of Mr. Thomas Edison, a Hero of History.

Does YWAM's Heroes of History Thomas Edison Pass My 4 Ingredient Test?
1.) Customization: Is it easily adaptable? Can we customize it to fit "us?" Can we modify or set our own schedule? Can we take breaks, jump ahead, or flat out skip?
The book you will want to read like any other book. But the guide is flexible enough that you can pick and choose what you want to do, and even alter it if needed.
2.) Value: Is it long lasting? Will it cover multiple grade ranges? Are you locked in to one specific grade level? Are there hidden fees?
This could easily cover multiple grades and ages. You could use this as a read aloud to younger students, or independent reading for older students. The guide is adaptable enough that you can spread it across multiple grades, and even reuse it once the younger kids get a bit older. Of course, there are no hidden fees.
3.) Attention span: Is it boring? Is it engaging? Is it varied enough for ADHD? Does it last too long?
We found the material was presented in a fun and entertaining way that was not boring. You can adjust the duration to fit your needs.
4.) Does it tie into other things we already have?
This could easily tie together reading, geography, science, and history. The curriculum guide is a Unit Study, so it encompasses a multi-subject format and approach.
YWAM Publishing has a huge assortment of Heroes of History, Christian Heroes, etc. I highly suggest you take a look at them for yourself. Please check out the banner below for more reviews of YWAM Publishing!