We LOVE games!!!! We have weekly family game night, and we try to fit in a monthly game night with friends and extended family. We LOVE games! That's why I was so excited when I was chosen to do a review for USAopoly. USAopoly graciously allowed me to review TWO games! I received

Tapple

and Wonky. These games are fun for the whole family. You can use them as educational tools, or just let the learning come naturally and play them for fun! Tapple is a great word game that really tests your brain power at times, and Wonky will test your hand/eye coordination, steady hands, and knowledge of physics!
For this review, I received both physical games, new, and in their original packaging.
Tapple is a fast paced word game that is seriously fun for the entire family. Mr. B and I started playing by ourselves, but our laughter and giggles prompted M to join us! You have category cards with 4 categories on each card. The idea is you have your category, and each player is to hit the red hand button in the middle. This starts a 10 second timer. They then have 10 seconds to tap a letter and give a word that corresponds with the category. The more outside the box, the better! For example, if the category is TV shows you could easily use the word Audience for A. You decide as a group if the answer fits the category or not. Once that play says his word/phrase, then it moves to the next and they hit the red button and the 10 seconds begin again.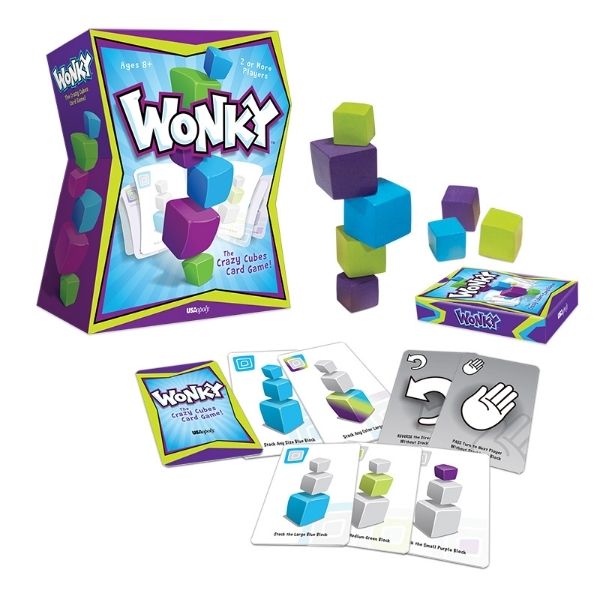 Wonky is just...WONKY! HAHA! It is a strategy game of sorts that will test your knowledge of physics, and your steady hands.There is a deck of cards, and 9 wooden cubes of various sizes. Each player is dealt a hand of cards. Some cards show specific blocks that must be used, some are passes, and so will allow the use of any block. The idea is to build a tower of blocks, and the one who causes the tower to fall down is out. You play until there's only 1 player left.
How we used this:
Well, Mr.B and I started to play on our own one evening. We usually have a weekly family game night, but M had to work at home so he was distracted. That, and my hard drive finally konked out and he was installing a new one for me. Sadly the photos of us playing are on the temporary drive, so those will be edited in tonight! Anyway, Mr. B and I sat down to play Tapple. After the first minute or so we were laughing so hard, M started to ask what was so funny. We were having a GREAT time! Eventually, M came in to see what all the giggling was about, and decided he HAD to try it too. Mr. B and M kept "accidentally" cheating by hitting the timer button, or waiting to hit the timer button! CHEATERS! HAHA! But we played several rounds, and the laughs never stopped!

We decided to put Tapple away and go ahead and try out Wonky. Ohhhh my, I wanted scream! HAHA! These two would work on a strategy together to make the towers so that they would fall on my turn! they would play passes or M would make suggestions to Mr. B on what blocks to choose, and how to place them, so that it was nearly impossible for me to build he tower. They got a huge kick out of it!

Autism:

Tapple is a really great game to help build communication and vocabulary in students with autism. The timer forces them to think quickly, and the open ended categories allows for them to develop a greater abstract way of thinking. The categories also allow them to link phrases/words to more abstract thinking. Wonky helps to build fine motor skills, foreshadowing and strategy skills, and helps to develop coping mechanisms for OCD and "lining up" behaviors. I will warn, if your child has a difficult time processing when things don't work out their way, Wonky may need to be integrated slowly as the towers DO fall, and fall quite easily. That's the whole point of the game.

Overall:
Overall, we love these games and they have become Game Night staples for both family night and our monthly extended family/friend night. From an educational standpoint, they are great for vocabulary, categorizing, fine motor, and physics. One could easily work in lessons of Potential and Kinetic energy, gravity, weight distribution, etc. From a therapy point of view, I find these to be great tools to use to build vocabulary and thinking skills, not to mention to help to do develop proper turn taking and sportsmanship skills.

I will not be doing my standard 4 ingredient test for these games, as they aren't products that really fit the need for that. I will say that the games come with everything you need to play them, with the exception of batteries for the Tapple game. You will need those. Tapple has a great design in that it houses the cards in the game itself, on the underside. While I find this to be a great attribute, I'm fearful the cards will accidentally come out lol. Some type of additional "safety" on the storage spot would be great. Also, the packaging of Tapple is well thought out, but it's not really great for storage. I do not like open or nearly open front boxes for storing games since you can't really stack a game on top of that without risking damage to the game. So a closed front box would be GREAT. With all of that said, the packaging was easy to open, and that was much appreciated!

Wonky is well packaged with ample room in the box for everything to be easily put away. I hate when I feel like I need an additional set of directions to repackage a game to put back on the shelf haha! With Wonky, this isn't an issue. Everything is stored in a lovely cloth bag, and the back fit easily in the box. The box in an add shape, but it's not so odd that we couldn't easily stack it with our other games.

We really found Tapple and Wonky to be a lot of fun for all of us. I would like to extend a big THANK YOU to USAopoly for allowing us to review both of these great games! If you would like to read more reviews on both of these, please visit the Schoolhouse Review Crew! Just click the banner below!