Growing up, I was always amazed by languages. I made it a life goal to learn at least one other language. I actually learned to count to 10 in Spanish before I learned in English! In high school I took four years of French, then I went on to College where I earned a minor in French. So you can imagine how excited I was when we were given the opportunity to review Middlebury Interactive and their French Courses!

Middlebury Interactive French Courses are immersion based online language courses of varying levels that introduce your child to the French Language, and systematically teach the language while immersing your child into the language via commonly known stories so that your child can learn easily and more meaningfully. Middlebury Interactive Languages offer not only French, but other languages as well, included Spanish, German, and Chinese. For this review, we received a full 6 month semester of Elementary French 1: Grades 3-5.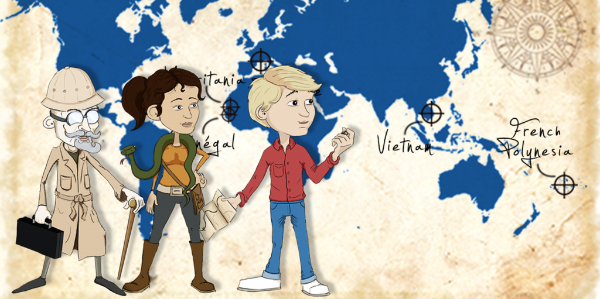 Learning a language in an immersive environment is the most natural way to learn. We are not born speaking the language of our parents. We do not memorize vocabulary words or sit in classrooms as toddlers to learn our native tongue. Instead, we live it. We experience it every day. We are totally IMMERSED into our native language, and this is how we ultimately learn that language. That is the idea behind immersion programs to teach a second (or third, fourth, etc...) language. You are not just learning vocabulary words and sentence structure, but instead you learn the natural way-by being exposed to the natural flow of the language. This is how Middlebury works to a large degree. From the start, in lesson 1, the story of "Little Red Riding Hood" is told in total French. It is not slowed down, with each word clearly enunciated, but instead it is read as if the person reading it is reading to a fluent speaker. As a long time French student, I can tell you this is a GREAT way to learn. It is easy to memorize words and match them. Un is one, vert is green, il is he, elle is she, etc...but when you link all of those words in a sentence, a non-fluent speaker will say each and every word slowly and individually. But that is not how true language is spoken. We don't tend to say things like "Hmmm.... I do not know," but rather we blend our words and sounds together. The same can be said for any language. In French, "I don't know" is "Je ne sais pas." But in speaking, it sounds more like "Jzhun saypah" Knowing how words are blended together is just as important as knowing the words.
Middlebury's Elementary French one for grades 3-5 is broken into several units, that are then broken into sub lessons.
Each main topic is centered on one specific area, such as "Greetings" or Numbers."
Under each main topic, we find the subtopics. Those subtopics are then broken into activities.
When you click on each of the subtopic activities, the work takes place on the screen just to the right of the table of contents, and the stories are all in French.
Once you have finished a lesson, the program checks it for you so that you know what you have finished correctly.
I do wish the screen wasn't so blank before starting opening the table of contents, as seen above. That did confuse Mr. B a few times as he felt lost or couldn't find the table of contents. You must click on the little box up in the top left corner to bring everything open. It would be nice if that was already open, or if there were words or something there instead of just the little box and huge, blank boxes.
Overall:
Overall, immersion programs have proven time and again to be successful and great for learning a new language. I was very impressed, from a former French student perspective, by this program. I was blessed in high school with a teacher who grew up with French as her native language being French Canadian, then again in college with a native French speaking professor. Both of these wonderful teachers knew what it was like to try and learn a new language, and they believed the best way to learn it was to experience it. That is what Middlebury brings. They bring an interactive language course that allows the student to truly experience the language they are learning, rather than depending on flash cards or vocabulary. By focusing on one story throughout the course, Middlebury Elementary French grades 3-5 constantly reinforces the exposed language to kids so that it will come naturally. By using a well known story, "Little Red Riding Hood" the process of "matching" the words is expedited so that the story makes sense. The first thing Mr. B said was, "even though it is in French, I understand it because I know the story. This is great!" At the end of the first lesson, students are able to say words.
Does Middlebury Interactive Languages Elementary French 1: Grade 3-5 Pass My 4 Ingredient Test?
1.) Customization: Is it easily adaptable? Can we customize it to fit "us?" Can we modify or set our own schedule? Can we take breaks, jump ahead, or flat out skip?
There is no set schedule. I would not skip as lessons build on previous lessons. You can modify in that you could add additional supplemental work which I do. Since I have experience in the language he is learning, I am able to verbally quiz him and keep the French going even after lessons, but I realize that's not the normal. You could easily add more supplemental work if you feel the need.
2.) Value: Is it long lasting? Will it cover multiple grade ranges? Are you locked in to one specific grade level? Are there hidden fees?
This does cover multiple grade ranges. This specific course was intended for kids in grades 3-5, but other grades are available. There are no hidden fees, and your access is subscription based. The idea is that you complete the course within the 6 month subscription period.
3.) Attention span: Is it boring? Is it engaging? Is it varied enough for ADHD? Does it last too long?
It is engaging and challenging, so the boredom factor was nonexistent for us. The lessons are short enough and fun enough that it worked well with both the autism and ADHD factor. If your child has a difficult time distinguishing words in English, then you may want to check this out for yourself first.
4.) Does it tie into other things we already have?
There really isn't anything for it to tie into. There's nothing Unit Study like about this. It is intended only to be a course from which your child can learn French.