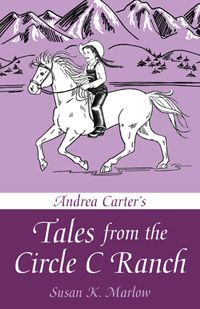 Until this review, I had not read anything by Susan K. Marlow, so when I was given the opportunity to review

Circle C Adventures

book

"Tales From the Circle C Ranch"

I had no idea what to expect. Circle C Ranch is the home of Andrea Carter, also known as Andi. This series of books explores Andi's life as she grows up from a young little girl (about 6 years old) and follows her 1800s life as she grows into a young lady. "Tales From the Circle C Ranch" is a collection of short stories that are written as a result of readers' questions. They are arranged chronologically, and the beginning of each story tells you where it would fall in the book series. The stories included are:
Part One: The Early Years:
1.) Britches Are Not for Little Girls
2.) The Best Gift of All
3.) Aunt Rebecca and the Hat
4.) White Christmas
Part Two: The In-Between Years:
5.) Prince Loco, Chad's Crazy Horse
6.) Hurrah for the Forth of July!
7.) A Matter of Honor
8.) Snakes Alive!
9.) Virginia's Riding Lesson
10.) Where the Trees Meet the Bay
11.) Adios, Jeffrey Sullivan
For this review, I received one 151-page paperback copy of "Tales from the Cicle C Ranch" written by Susan K. Marlow, and published by Kregel Publications, a division of Kregel, Inc., Grand Rapids, MI. The front cover is illustrated by Leslie Cammelgaard, and the rest of the illustrations are by Melissa McConnell. ISBN: 978-0-8254-4379-4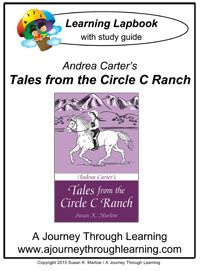 As I mentioned above, I had not experienced any of the books based on Andi and the Circle C Ranch until this review, so I was not really sure what to expect. I received the book, and had intended to read it as a bedtime story to my son-one short story each night. These stories are so engaging, and so entertaining, that we couldn't stop with just one. Susan K. Marlow's writing draws you into the story, and helps you to develop a true connection to the characters in such a way that you don't want to stop reading. These short stories are written in a way that is more like some one is sitting around telling of a specific incident that happened to them. One of my most favorite things growing up, and one of my most cherished memories, was sitting around at night listening to my dad and his brothers tell stories of them growing up, and even after they had grown up. For example, my two uncles shared a house together for a while and one of them just HAD to have a goat to tie outside to help maintain the property (rural farm land.) They had fixed themselves a really nice Thanksgiving dinner, and after they had eaten some one left for a bit and the other decided to take a nap. Something happened, and that goat got loose, got into the house, and ate all of their Thanksgiving dinner! This book, and the way it is written reminds me so much of those stories, and brings back such fond memories of my dad and his brothers, that it's impossible for me to not love it.

The first story in the book, "Britches Are Not for Little Girls," really hit home for me. I was a tomboy growing up with a daddy very similar to Andi's. Her dad is very much the type to dismiss social norms in favor of doing things his own way. It is against proper social rules for Andi, a young lady of prominent standing, to wear "britches" or ride a horse in her dresses letting her legs show. So a new friend offers her his overalls, which she takes as a perfect solution to her riding problems. She very much enjoys riding around the ranch with her dad, legs showing and skirt tale flying, but her aunt from the city is very much against it and this puts a lot of pressure on her mother. Her father laughs and says they are hundreds and thousands of miles away from those who take issue with little girls wearing pants, and it's safer and better for her to wear the overalls rather than get her dresses dirty-Or risk injury by riding sidesaddle. This is something my own dad would have said. He was very much a practical minded person who put logic and practicality over fashion rules. And like my own dad, Andi's father died when she was still young. It was her overalls that helped her cope with the pain of losing her dad, like my dad's stories and cowboy hats helped me.
It's that type of connection that makes these stories so great. You get drawn into each story as if you are really there. Each one gives you a glimpse of what life was like in the 1800s, the customs, the social rules, the family dynamics....all of that is seen in Tales From the Circle C Ranch.
Lapbook
We have not put together the lapbook yet. I wanted to do an initial reading first, then discuss the main point of each story in more detail while working on the lapbook. For example, with the first story we have been talking about social rules for the way people dress. So we have finished that aspect of the lapbook and discussed how little boys and girls were often dressed the same due to costs and ease of toilet training. Then we jumped a bit to "Snake's Alive," and now we're on "Aunt Rebecca and The Hat" since I've been doing a lot of photography work, this is the topic of the day. We've really gotten into the "History of Photography" thanks to this, so I expect we will be spending a great deal more time exploring the history of photography, and looking at old photos.
The lapbook is a fun, hands on way, to bring this book to life and delve deeper into the study of history from the time period of the 1800s, and more. For example, in the section that covers "Aunt Rebecca and the Hat" your student will be asked such things as "What two Greek words make up Photography." Or "Why did a photographer cover himself and his camera with a black cloth?" Critical thinking questions like that can be used to bring a new level of learning to an already great book.
Overall
Overall, Susan K. Marlow does a fantastic job of writing a companion book that can really stand on its own, and is a fun way of learning about American History during the 1800s. We did not feel lost or confused at all. I was concerned that we would feel like something was missing due to the fact we've not read any of the others, but that wasn't the case at all. This book is a great example of how reader feedback and questions can influence an author, since this book is an answer to numerous reader questions and comments. We have thoroughly enjoyed this book and highly recommend it if you have not read any of the Circle C Adventures books! This would be a great way to test the waters! And if you have, this is a great way to revisit old friends!
Social Media: