We were chosen to review Apologia Educational Ministries' BRAND NEW Exploring Creation Field Trip Journal. This new product from Apologia is coming soon, and you'll want to be sure you check it out because it is so much fun! It is a colorful, spiral bound book that allows you and your children to record all of the important information for field trips large and small including emergency contacts, points of interest, etc. There is also a list of field trip ideas from museums to backyard exploration. The book has a variety of sections, from field trip pages where you can fill in contact information, your favorite parts of the trip, photos and drawings, etc. to pages for your child to draw a picture of their perspective! (This was my personal favorite part!!) For example, they are instructed to draw a photo of clouds they see. There are checklists that cover times before the trip (extended time like a week before all the way until you're on your way) for both student and teacher, ideas for investigating everything from plants to the stars, maps so your child can show where he/she has been, and so much more! The Exploring Creation Field Trip Journal is a lovely asset to add to all of your homeschooling journeys-Both large and small!

For this review, we received one field trip journal.
This can be used for more than one child, and makes for a great family book! The journal is wire bound and very colorful. The thick pages turn easy, showing this is a quality product that will endure many adventures.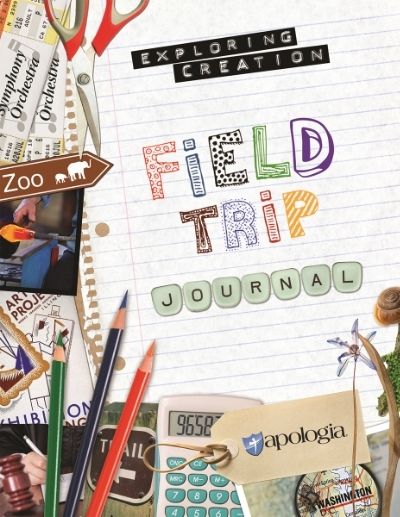 How we used this:
We love going "out and about," as Mr. B likes to say, so this Field Trip Journal has been a very handy tool to have! We used this for both backyard exploration, a larger field trip, and a drawing from Mr. B's perspective of the world around him. I found I kept this in our "go bag" for spur of the moment trips, as we often take. We often find ourselves doing something mundane, like going to the grocery store, but getting sidetracked because of some amazing adventure we've decided to go on due to a last minute change of mind, or seeing an ad for something, or whatever! So it's great this journal is lightweight and easy to take along. I just leave it in the car, or slip it into our bag, and we're off!
Mr. B is still finding it difficult to get is thoughts on to the paper. He is great at telling me stories, and answering in depth questions orally, but the ability to translate those words to paper is one we are still working on. I took this photo before helping him finish the page, but these journal pages have been great at giving him more practice with writing. This is a journal page for your adventure. And remember, your adventure could be as grand as a huge vacation, or as simple as walking around your backyard. The possibilities are only limited by your imagination! This particular adventure centered around our trip to Mamaw's summer cabin in the mountains. Mr. B is really big into maps, roads, geography, etc. so his journal centered around this. And of course his mamaw is something he never wants to forget. What I love about these pages is that they look like regular notebook paper, but they aren't. They are a thicker quality, like the rest of the book. It also gives your child an outlet to express his/her feelings about the trip in their own way. Which is fantastic!
This is a great record keeping page. Please note under the "Emergency Contact Plan" I photoshopped my mom's phone number out for privacy reasons. You can see that in the photo. But this is a great way to go over the trip before you even start, allow your child to draw a map, go over what to do in case of an emergency, and make a list of things you hope to do/see. There is also the area for a photo that you can either adhere to the page, or draw on the there.
This is one of my favorite parts! This is a section of the book where you child can interpret the idea, in this case the Heavens, in any fashion they like. They can draw, color, etc. I took the photo before Mr. B. had colored it because I knew I'd not have a chance to do so afterwards haha! He loves to keep his drawings!
Does Apologia's Exploring Creation Field Trip Journal Pass My 4 Ingredient Test?
1.) Customization: Is it easily adaptable? Can we customize it to fit "us?" Can we modify or set our own schedule? Can we take breaks, jump ahead, or flat out skip?
This is 100% able to be used as you see fit. You can use it for one child, multiple children, or as a whole family. You can use it as a scrapbook of sorts, a journal, a field trip planner, whatever!
2.) Value: Is it long lasting? Will it cover multiple grade ranges? Are you locked in to one specific grade level? Are there hidden fees?
It is long lasting in that you can use it for the whole family. There's no grade level to choose, making this very versatile. There are no hidden fees, you just purchase the book and that's it.
3.) Attention span: Is it boring? Is it engaging? Is it varied enough for ADHD? Does it last too long?
The colorful pages and fun arrangements make this interesting for those with short attention spans. The journal writing aspect may even be fun with the fun pages, and fun topic.
4.) Does it tie into other things we already have.
You could easily tie this in with whatever you are working on. Like I mentioned above, you are only limited by your own imagination.
Overall:
Overall, we have really enjoyed using our Exploring Creation Field Trip Journal. It has been a great tool to get us thinking outside the box. I really like the field trip ideas, and we have enjoyed viewing our own surroundings in a new light thanks to this book. It's been a really nice tool to use to record special moments and memories that I may not have otherwise recorded. And at only $22.00 as of the date of this post, it's inexpensive, too! And for families with special needs, such as autism, it is a great way to slow down and really capture the essence of each field trip, large or small, and help your child to take note of things he or she may skip over. I really do like this field trip journal!
----------------------------------------------------------------------------------------------------------------------
Apologia on Social Media
If you'd like to read what others have to say about this great journal, please check out the Review Crew! Just click below!