When I found out I was chosen to review Spelling You See I was SO excited! If you have a student who is struggling with spelling, who is a visual learner, or you just need an alternative method to spelling, then Spelling You See is for you! My son is a bad speller, and nothing we've tried has worked. Spelling You See, and more specifically Ancient Achievements (Level F,) is a spelling program that does not have boring word lists. Instead, it uses visual learning, reading passages, and copy work to teach spelling in a way my child "gets." Not to mention, your student will get to use colored pencils, and who doesn't like colored pencils?!
What we received:
For this review, we received an Instructor's Handbook, Student Books 1 and 2, and a pack of erasable colored pencils. These were all a part of Spelling You See Ancient Achievements (Level F.)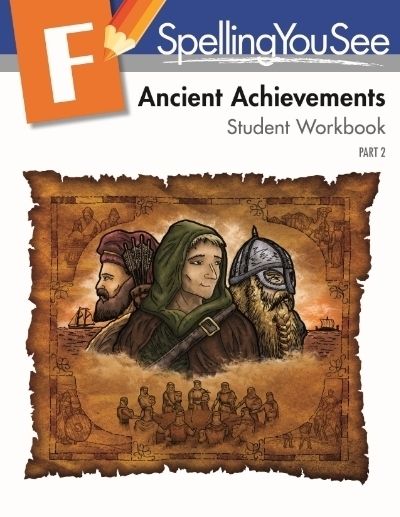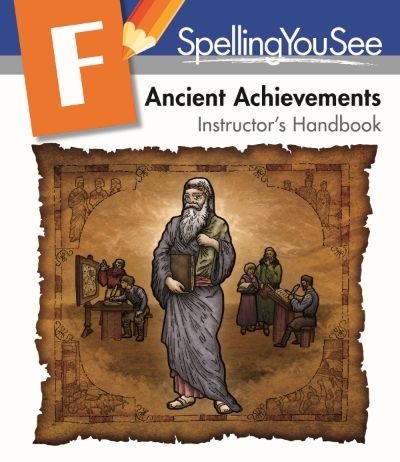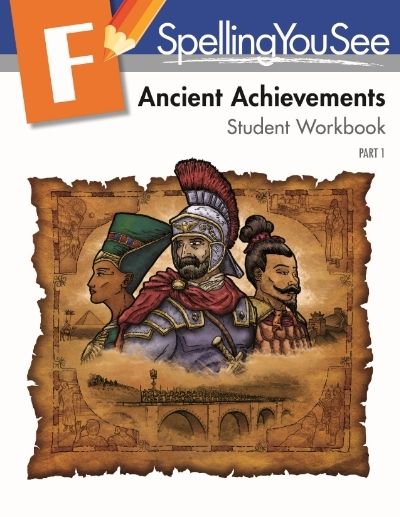 How we used it:
We have TRIED to "do" spelling. I've made lists, I've printed off lists, I've bought lists....nothing has worked! I opened the box to Spelling You See, and it was like Christmas for me! We got started immediately! We use this 3 to 4 days a week, and incorporated it into fun history lessons as well. Each passage/lesson is comprised of a history lesson, so you can easily incorporate this into any ancient world history studies you may be doing.
What we loved:
I love the repeated practice. I love how it progresses slowly upward from directly copying the passage to narration. The amount of practice is pretty perfect for us. The lessons aren't terribly long, so there's no lost attention span. I love the fact the kids can use colored pencils, and the letter chunks are color coded. This is great for a visual learner!
What about special needs?
I also appreciate the two workbook system.This prevents anxiety from seeing a larger workbook. Often, especially with Asperger's or Autism, kids feel the need to complete the ENTIRE book. Having the work separated into two different books lessens this type of anxiety.
Does Spelling You See: Ancient Achievements pass my 4 main ingredients test?
1.) Customization: Is it easily adaptable? Can we customize it to fit "us?" Can we modify or set our own schedule? Can we take breaks, jump ahead, or flat out skip?
You can set your own schedule if you want, but since it is a spelling program it is best to follow the lessons in order as one builds off the other in a logical manner. You can take breaks as needed, since it is a physical book. You can adapt or schedule as you do any other physical book.
2.) Value: Is it long lasting? Will it cover multiple grade ranges? Are you locked in to one specific grade level? Are there hidden fees?
These levels are based upon skill and academic level. (Example Level F, Level G, etc.) There are suggested age/grade ranges for these levels, and of course you can use a lower level for more review, or a higher level for more of a challenge. You are locked into that one level, since it is a physical product. And as a result, there are no hidden fees. Each set has everything you need.
3.) Attention span: Is it boring? Is it engaging? Is it varied enough for ADHD? Does it last too long?
My son did not find it boring. The coloring aspect, and the engaging subject matter went a long way in taking an otherwise boring subject (spelling) and making it fun and interesting. He's not much of fan of copy work, but finds it a necessary evil to accomplish his learning goals. The lessons are short, the copy work not excessive. He didn't spend much longer than 20 minutes per lesson.
4.) Does it tie into other things we already have.
Level F is based on Ancient History, so if you are already studying (or plan to study) an ancient world history lesson, then this will fit right in! You can also use this if you are studying something else, and it won't be confusing at all.
Overall, we really enjoy Spelling You See and plan to make it a staple in our homeschool! The lessons are short and sweet, the use of colored pencils makes it fun for him. The subject matter is intriguing and engaging, making this a fun way to learn the mechanics of spelling! You know it is a hit when the kid ASKS to do it!
For more reviews, check out the Schoolhouse Review Crew!