Hello everyone! For the last several weeks we have been reviewing New American Cursive: Penmanship Program Workbook 1 from Memoria Press. New American Cursive: Penmanship Program Workbook 1 is a consumable workbook that targets New American Cursive. New American Cursive has less flair and fancy (less strokes) than other fonts, but it still has that "pretty" cursive look. Since it has less "fancy schmancy" it is easier for younger kids to get the hang of it. It is also easier for those who lack refined fine motor skills, like my ASD son. It features a cute little mascot to accompany your child on his or her penmanship journey, making this penmanship program fun and fast. For this review, I received one workbook.
Screen Snip from Memoria Press Sample Page
How we used this:
I used this with my 9 yr old son who has autism, and not the best fine motor skills when it comes to penmanship. (Ok ok, he's right down messy when it comes to print, much less cursive!) My son is left handed, and he has a very poor pencil grip. As a result, we have had to move rather slowly. The program says your child should spend around 20 mins daily, but we spent more time since I was trying to deal with him being a lefty, and me a righty, and his odd pencil grip. Not only did we spend time in the book, but I also had him copy it over and over onto notebook paper as well. So instead of covering 1 letter each day, we covered 1 letter each week. His flavor of autism doesn't include great dexterity with fine motor skills, so a greater amount of time had to be spent. This plan worked very well for us as we were able to take more time covering not only the letter shape, but also to revisit phonics as well. I made sure to incorporate the week's letter into all aspects of our lessons that week. So for week 1, we pointed out all of the A's, traced them, wrote them, etc. We went outside and made letters in the sand (he would make sandstorms before I could snap a photo!) And we'd make letters in the foam of nightly bubble baths.
Screen snip from Memoria Press
Thoughts:
New American Cursive is great for beginners and left-handed folks because it does not have as sharp of a slant as other fonts. My son was easily able to trace the letters, and follow the arrows. I found he arrows particularly helpful since I didn't have to really think about how to have him actually draw the letters. That had been our trouble for so long, he couldn't figure out his own way to begin the letters. I do wish there was more practice in the workbook. It seems as if there was only a small amount of space to actually practice more of the letters, and a large amount taken up for artwork. While I value the graphics, and appreciate their need, a row per letter (uppercase and lower case) of extra practice would have been very beneficial to me. And by that I mean a row of solo practice, not tracing practice. It would have been handy to be able to have those arrows as reference points on the same practice page of nothing but that one letter, as a guide to look back on. Perhaps a supplemental "Practice book" could accompany this workbook in the future, as a separate add-on. With that said, I like the "reviews" where the student has to combine the previous letters together. I also like the tracing/copy work sentences. These help to show why some letters end with a "smile," etc. Also, the videos on the website a WONDERFUL for teaching the right way to hold your pencil, and tilt your paper. Being right handed, it was so hard for me to help him in that area, so handwriting has always been awkward at best. The videos show proper pencil grip (which we have yet to master) and proper paper alignment for ease of use.
Screen snip of actual sample page.
Overall:
Overall, I'm very pleased with Memoria Press and New American Cursive: Penmanship Program Workbook 1 for teaching cursive writing. Cursive writing is a dying art is seems. Schools are not teaching it, students are not learning it. It is so very important that we teach our children how to read and write in cursive. All of our historical documents are in cursive. A great majority of our family records and letters are in cursive. This is such an important skill to teach. Memoria Press has a link to an article published at Psychology Today showcasing the biological and psychological benefits we receive by learning cursive. Again, I stress it is very important. This program recognizes that importance, and tackles it in a fun, low stress way. It is cost efficient at $22.95 as of the date of this blog, so it won't break the bank. There are a variety of levels to choose from, so you can choose the level that is right for your family, and perhaps advance from there. If you purchase the CD, you can create customized worksheets that revolve around any other subject area you need. I would personally buy the CD as well, as I felt we needed more practice that wasn't available in the workbook itself. I highly recommend Memoria Press and their New American Cursive: Penmanship Program Workbook 1! It has greatly helped us!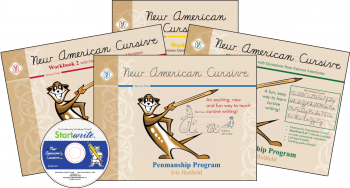 For more reviews, please check out the Schoolhouse Review Crew!