I can't say enough great things about
Visual Learning Systems
and their
Digital Science Online Science !
! I was given a one year membership for both the
Digital Science Online: Elementary Edition
as well as
Digital Science Online: Secondary Edition.
Digital Science Online is a science program where you can stream videos that are an average of about 15 minutes in duration on a HUGE variety of science topics that cover Earth, Life, Physical, Integrated, Biology, and health. Each video includes a downloadable and printable teacher's guide that includes a nice cover sheet, table of contents, contents and standards statement, objective, video summary, pre-tests, post-tests, and a multitude of student activities that include writing, vocabulary, and experiments. Digital Science Online Elementary Edition covers primary, elementary, and Digital Science Online: Secondary covers middle/high school grades. To say I was very excited when I found out I was chosen to do this review is an understatement! My son, as many with autism, is a very visual learner. This proved to be a fantastic resource that focuses on visual learning, while still offering paper work.

Visual Learning Systems live up to their name with their fantastic videos! The videos are short, but in-depth. The narrator is calming, but engaging. The graphics are nice, and we really loved how it shows things in action. For example, earth worms moving in the dirt, etc. The videos can be kept small, or you can expand them to full screen. They are also easily streamed on an iPad. This made it very convenient for us being on the go a lot. We were easily able to take our science with us, with out toting around a bunch of books.
Each video includes what I call a print packet, and this is the teacher's guide. It has a guide for the parent/teacher to be able to introduce the video, as well as an assortment of fantastic student activities. One of these activities is a worksheet the student is to use while watching the video. This really helps the student to watch the video effectively, while thinking critically. I found the use of this particular print out was very beneficial for my son to really grasp the concept given in the video. This is also great for his end-of-the-year portfolio. I appreciated the fact that the packets not only included things like a pre-test and post-test, but also activities that help to reinforce writing and vocabulary. There were some days we used Digital Science Online, and the printed student activities, as our writing and language arts activity. Here is a Screen Snip of one layout of activities. Some categories have more than this. We have had Teacher's Guide's with as many as 25+ pages so far!
This is not religious based, and does touch upon secular ideals and philosophies. I was easily able to explain these to my son, but if you are sensitive to that sort of thing I suggest watching the videos and previewing all printables before you child does the lesson.
Does Visual Learning System's "Digital Science Online" pass my 4 Main Ingredient test?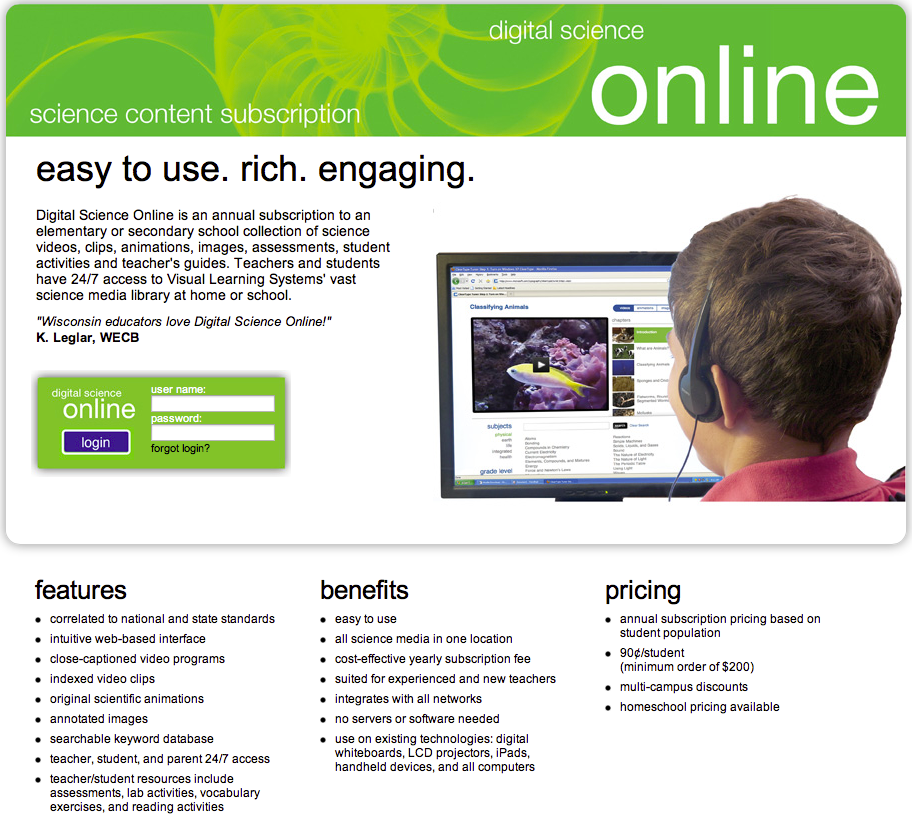 1.) Customization: Is it easily adaptable? Can we customize it to fit "us?" Can we modify or set our own schedule? Can we take breaks, jump ahead, or flat out skip?



YES! YES! YES! You can choose to print off only what you want, or nothing at all. You can add to it if you wish. There are no set schedules to follow, and you can easily pause, or re-watch, whatever you wish. You are not tied-down at all.



2.) Value: Is it long lasting? Will it cover multiple grade ranges? Are you locked in to one specific grade level? Are there hidden fees?
When you have an online subscription you get to choose which grade level you want. If you wish to utilize a concept under the Primary tab, you can. If you want to use Elementary, that's ok, too! If you choose the secondary edition, then you can choose between all of the options under the middle school and high school ranges. That's one of the BEST things about Visual Learning Systems and the Digital Science Online! You are not stuck in only one grade level, but you have the freedom to move about. I would like to see them incorporate an option for both editions, that would make it even more perfect! Right now, you get your choice of edition, with all of the awesomeness it includes, for just $99.00/year! It's so well worth it the money!


3.) Attention span: Is it boring? Is it engaging? Is it varied enough for ADHD? Does it last too long?
It is most definitely NOT boring! The videos are short enough that attention is not lost, and the child is not bored. My son is easily distracted, but the videos easily hold his attention, and he loves them. He asks to do his science work, and will often meander around the videos on his own, watching more than I have assigned!
4.) Does it tie into other things we already have.
You can easily supplement if you wish, though I never really found the need to do so at this time. If you want to go more in depth, you can quite easily. This is not a religious based program, so anything will really work well with it.
Overall, WE LOVE IT! It is our main, "Go-to" science program. We use this nearly every day! It is packed with information and resources!
I suggest that at the very least you sign up for a FREE TRIAL and try it out for yourself! This will DEFINITELY be a mainstay in our homeschool!!
For more reviews, please check out The Old Schoolhouse Review Crew!