Hey everyone! Getting my son to willingly do Language Arts is like pulling a tooth from an angry alligator, so imagine my surprise when he actually asked to do his work from Critical Thinking co.'s workbook, Editor in Chief Level 1.
Editor in Chief Level 1 is a consumable, paperback workbook full of Language Arts goodies intended for 4th and 5th grade level students that will help them learn valuable editing skills, and reinforce their writing skills. There are 69 pages that cover 12 lessons, beginning with "content" and including capitalization,
punctuation, spelling rules, nouns, pronouns, adjectives, adverbs, articles, verbs, agreement, conjunctions, prepositions, interjections, confusing word pairs, negative words, homophones, homographs, run-on sentences, and sentence fragments
. The lessons build on each
other, and are short enough to not get boring.
How we used the book: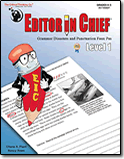 This is described as a full curriculum for Language Arts. While it does cover a large variety, I would not personally use it as a stand alone Language Arts/Writing Curriculum with out adding anything else. Others may feel differently, as I am sure it is more than enough for typical students to grasp the concepts. For students who need more review over a longer period of time, this book is excellent, but I still reinforced the topics covered in a number of formats. As most parents of ASD kids know, transferring concepts between formats can sometimes be troublesome, so I wanted to make sure that wasn't an issue for us.
We used this as both a main source of Language Arts, and as a supplemental workbook. The book is large enough that it covers a great deal of material, but it is easily transported as needed. At the time of this review period, my uncle was gravely ill (he has since passed,) and I had no problems taking this workbook with us when we were on the go helping take care of him, or taking it to the sitter's. It is "beefy" enough to use as a stand alone, but I still felt the need to supplement with more variety in format for the reasons stated above.
We started with Content. This was a lesson in both correcting errors, but also paying attention. Your child is to read a passage, and look at a photo/diagram with information. There are 0 errors in the content diagram, so they must read the passage and compare this with the diagram, correcting errors as they go. There is an optional lesson to rewrite the passage with the mistakes corrected. We used this to target copywork, as well as penmanship, in addition to merely correcting the mistakes. This was a struggle for my ASD son, due to the nature of what he was tasked to do. He found it somewhat difficult to go back and forth between the diagram and the written passage, changing the passage as he went. But after the first couple of lessons he caught on quickly, and really enjoyed the lessons after that.
Lesson 4, Spelling Rules, was another favorite of mine. What I liked the most here was how the rules of spelling are listed on the first pages of the unit. That was a really nice reference point to return to when there was a question or explanation was needed. Each lesson has these reference pages, but spelling is a struggle for us, so it was VERY helpful in our situation.

Lesson 10 (Confused Word Pairs/Negative Words) is another he had a little difficulty with at first, but double negatives is not a topic we have previously discussed at any length. Again, after the first couple of lessons, and the rewriting activities, he easily grasped the concept and was able to complete the lesson, and do quite well.
At the end of every 3 lessons is a mini review of what has been covered in the previous 3 lessons, and a review that covers everything up to that point. So after lesson 3 there is a mini review of lessons 1-3, after lesson 6 there is a review of lessons 1-6 and a mini review of just 4-6, and that pattern continues through all twelve lessons.
This is really awesome for our end of the year portfolio. Instead of several pages of worksheets to show progress, I will only have to show the last test that covers everything in the book.


Overall:
Overall, I really like this. I kind of wish there was a little more variety in structure inside the lessons. Maybe a few pages with the passages, and the option rewriting activity, and some with 2 passages, or perhaps some other type of practice exercise. With that said, I like how there is a number of passages that are informational, and the lessons are short. The non-fiction passages actually worked to spur on further discussions a lot of times, so that was really nice! The lessons and passages easily maintain a short attention span. It challenges your student to think differently. Often times they read a correct passage, and must correct mistakes outside the passage. This forces the brain to think differently, and correct the passages instead. There is the right amount of repetition for retention, but not so much that it's obnoxious. Another thing I really like about this workbook is that it lists the number of mistakes to be corrected in numbered circles, and the type of mistake that needs to be corrected. The book is on grade point, as far as I'm concerned, and is a useful tool to add to your Langauge Arts arsenal.
4 Ingredient Test:
1.) Customization: Is it easily adaptable? Can we customize it to fit "us?" Can we modify or set our own schedule? Can we take breaks, jump ahead, or flat out skip?
There is no set schedule. The lessons do build upon each other, so I do suggest going in order. You can also use this as a supplemental book, if you choose.

2.) Value: Is it long lasting? Will it cover multiple grade ranges? Are you locked in to one specific grade level? Are there hidden fees?
It is intended for those on a 4th or 5th grade level. There is a level 2 that goes beyond that. This particular book would be a good review for older students, and a good measure for older 3rd graders.
For $19.99 (as of today's writing,) you really can't go wrong!
3.) Attention span: Is it boring? Is it engaging? Is it varied enough for ADHD? Does it last too long?
There is a lot of variety in the passages. They are short, and worked well for my son even before his meds had fully taken effect.
4.) Does it tie into other things we already have.
This would work well with all of our writing and Language Arts materials.
For more great reviews, don't forget to check out The Old Schoolhouse Review Crew!

https://www.facebook.com/TheCriticalThinkingCo
https://plus.google.com/114500823774999703181
https://twitter.com/criticalthinks
https://www.pinterest.com/source/criticalthinking.com/