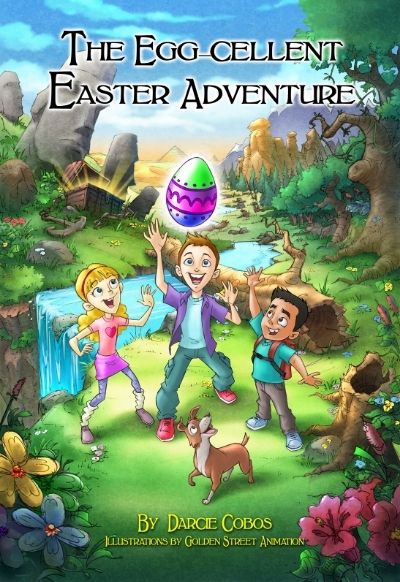 Hi everyone! We have had so much fun reviewing Egglo Entertainment's AWESOME glow in the dark eggs, The Egg-cellent Easter Adventure Book, Egglo Treaures Scripture Scrolls, Egglo Bible Verse Stickers, The Egglo Glow in the Dark Egg Hunt Event Curriculum, and Easter Egg Stickers. SHEWWWWWEY that's a long list of fun products!

For this review, I received a physical book, 1 box of 12 glow in the dark eggs, 1 package of scripture scrolls, physical stickers, and a digital download PDF of the curriculum.
About the Product: Egglo Entertainment's Glow in the Dark Easter Eggs shine to symbolize Jesus as the Light of the World. What better time to showcase this than Easter time? The glowing eggs with bible focused extras work together to put Christ as the center of Easter. With fun activities, snacks, and glow in the dark fun, you can be assured there will be many hours of great fun and learning of the meaning of Easter.
The eggs, with lovely crosses on them, split apart so that you can easily insert the scrolls, stickers, candy, etc...and you can easily store them this way for a more compact means of storage. The eggs glow with a powerful and bright glow. I was pleasantly surprised by this. I "charged" them for about an hour in the sunlight, and they were able to glow brightly. I also placed them on the counter under a fluorescent light for about an hour, and they were very bright. The blue eggs glow brightest, followed by the yellow, then the pink-This may have been because they were not very close to the charging light source. The scrolls are small enough to fit in the eggs, while leaving room for any other goodies you may wish to include. I would be careful with kids who may be a little more rough than others, as one scroll pulled apart as I was unrolling it. The stickers have the right amount of adhesive on them, so they easily stick, and they are individually cut so that you can include them in the eggs if you want. The curriculum download is a PDF file, and it is very colorful. In it is a lot of party activities, snack ideas, party invitation templates and cards, coloring sheets, posters, and various guided readings with questions and answers. It is a very nice guide for leading a party with discussions and activities on the true Christian meaning of Easter. You can really do a LOT with this Curriculum PDF!
How We Used This:
First, we talked about how and why the eggs glow. From both a symbolic aspect of Christ being the light of the world, to the scientific aspect of how they do it. We talked about other things that glow, and how. Such as Fireflies. Then we just had fun with them! We charged them, we hid them, we found them, we charged them again. Rinse and repeat! We used the varying colors to do some basic fraction work. We colored our own cardstock eggs, and we talked about the life cycles of other animals who lay eggs. It's amazing how many different topics we covered thanks to a dozen glowing plastic eggs!
I had planned to use these with the scrolls, having him pair the ideas on the scrolls with the Bible Verse Stickers on a poster board chart, and then using the others as rewards. This would have worked perfectly, but he did not want to adhere the stickers HAHA! It's an autism thing! The book is a VERY colorful picture book style book. It's great to read to smaller kids, and wordy enough that middle to older elementary kids can still enjoy it. I read it to my son, then I had him read it and do a book report on it. It was small enough that he could easily read it in one sitting, and the illustrations kept his attention. The curriculum download is colorful, and packed with great ideas! We had a lot of fun with the coloring sheets, and we used a lot of the Egg templates to decorate these with our own drawings. You could easily create coloring books, using a variety of the artwork in the PDF and the posters as the covers, for a church group or Easter party. There are sheets that correspond to both the Egglo Egg-cellent Easter Adventure Book as well as coloring sheets specific to the Biblical account of Easter. There are a lot of game activities that you can use as the guide suggests, or make up your own. We did a "Memory style" game with some , and printed off most on card stock. There's a page in the guide that matches the Bible Verse Stickers. This could be printed on cardstock and used as a fun matching game. I am thinking of ordering more eggs so that I can make a wreath for my front door! I think these would be fantastic in decorations! They would charge in the sunlight, and glow when the sun goes down! These would also make for great sensory play. So many different uses!
Overall: These are so much fun! We have had some rather interesting weather the last 2 weeks with more than 2 feet of snow, significant flooding, and widespread power outages. As a result, we headed to Mamaw's house, since she had power. The products were easily packed so that we could take them with us for some fun! My son loved looking around Mamaw's house in the dark, hunting the eggs. They were easily seen in the dark, and provided a lot of laughs. The curriculum download is full of ideas and activities. I love how colorful the graphics are in both the book and the curriculum download. Egglo Entertainment's Glow in the Dark Eggs, and all of the goodies that go along with them, would be a fantastic addition to any church group and/or family who want a more Christ centered Easter Holiday!


Here are our Egg-cellent Egglo Glow in the Dark Eggs Photos!!








For more GREAT reviews, Check out the Schoolhouse Review Crew!