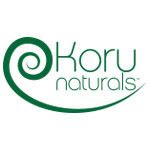 Hi everyone! I am so excited to bring you this review! I have been super blessed to be able to review Koru Naturals Emu Oil and their Koolpurrie Restoring Balm. The Emu oil is a premium grade oil that is recognized by the Therapeutic Goods Administration in Australia. It's viscosity is mid-range, and it absorbs quickly. A little definitely goes a long way! The health benefits of Emu oil include dry skin and hair, which is what I personally used it for. The Koolpurrie Restoring Balm is a blend of emu oil and lanolin, both of which have been used for generations to treat a variety of ailments. Blended together, the Koolpurrie Restoring Balm is GREAT for seriously dry skin! For these great products and more, please check out Koru Naturals for yourself!
How I used to this:The oil I mainly used on my hair and face. I have really dry hair on the ends, but it is really oily toward the scalp, with the exception of my hair line. I have very fine hair also, so I'm prone to static and flyaway hair. I take a few drops of the emu oil and, starting at the tips of my hair, gently work it going up. I did this with both dry hair, and wet, and neither made my hair look oily or greasy. If it does, then you've used too much. I have VERY long hair (down to my waist,) and I put one drop on my hands, and work it in. Then I take a drop and work it around my hair line, and the dry parts of my face.
My son uses a medicated patch, which leaves his skin severely dry and chaffed, and also leaves a sticky residue. I used the oil to remove the residue and also repair his skin. This has allowed us an alternative to the harshness of prescription steroids to treat his reddened skin! The oil absorbs very quickly so there's no lasting residue or icky feeling that you sometimes get with similar treatments. The oil as little to no smell, so that's not an issue either. Here's a great photo of the oil: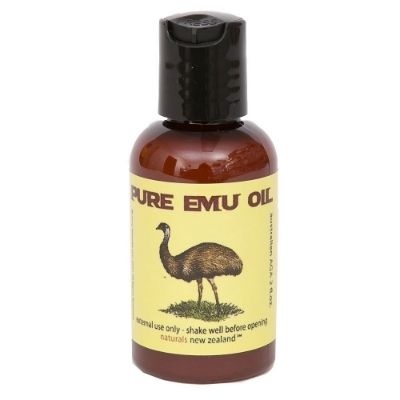 The Koolpurrie balm I used on my hands, elbows, feet, knees, and chapped skin on my son and fiance. I wish I had taken a before photo, but my camera was in need of a charge and I really thought I had a few days to get that photo. I was so wrong! One application of a tiny amount of this balm and my hands were fantastic! It took DAYS for them to get dry again, and this is winter time with temps below freezing daily! I also wash my hands dozens of times each day, so they tend to dry out within hours of applying lotions or healing balms. The fact that I was able to get such results is huge! My hands will get so dry, that it looks like I've been fighting they are so damaged. This balm is soothing, it doesn't cause any sort of stinging at all, and it absorbs so quickly that you don't even know you've used it. It is long lasting, doesn't wash away easily, and you don't need to use a lot to get a great result. I used this on my dry elbows, and with in a day or so they were extremely smooth. I used it on my fiance's elbows. He tried to wipe it off, and said he was genuinely impressed by the fact that it did not easily wipe away. He is hard to impress, and doesn't tolerate lotions or balms well, so that is saying a lot! And here's a photo of the Koolpurrie Restoring Balm: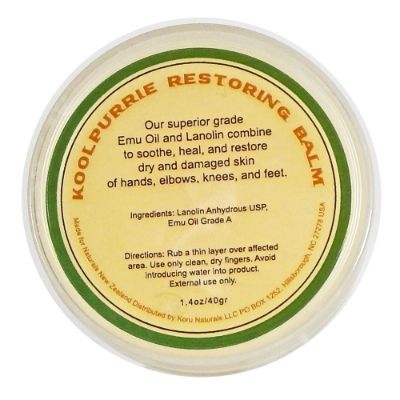 During our review, my son came down with a terrible cold (flu?) and after a few days of tissues his nose was very red, swollen, and sore. He would flinch when I would try to wipe it. I used the Koolpurrie Restoring Balm on his nose, and around the outer part of his lips (it is external use only, so I avoided his lips....only the skin around....) and he had nearly instant relief.
My niece left her hydrating facial cream at home by mistake. I gave her my Koolupurrie Restoring Balm to try, and she's hooked! It smoothed, softened, and treated her dry facial skin with out causing blemishes.
Both of these products will be mainstays in our home!
Cost:
I'm cheap! I am always hunting for a bargain. If I am willing to spend $$ on it, you can be assured it is a good product that is worth the money, and the cost is also low. As of the date of this blog post, a 2oz bottle of Koru Naturals Emu Oil is $9.85 and the Koolpurrie Restoring Balm is $12.50. Orders over $35.00 get free USA shipping, also. They accept check, money orders, all major credit cards, and paypal also. So the cost is definitely well within reason as a 2oz bottle will last a good amount of time!
Overall, we love Koru Naturals and both the Emu Oil and the Koolpurrie Restoring Balm!
If you want to read more reviews on these products, and other great Koru Naturals products, click here to check out more Crew Review blogs!