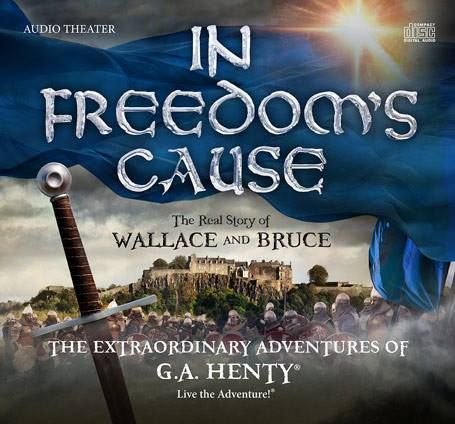 I've been very blessed to receive a copy of Heirloom Audio Production's disk set titled, "In Freedom's Cause." to review. "In Freedom's Cause" brings you a wonderfully dramatic account of William Wallace, and his stand against an oppressive England, and Robert the Bruce, for the sake of Scotland. Beyond the historical aspects of the story, "In Freedom's Cause" brings to the forefront William Wallace's faith in God, and how it was his faith that gave him the strength and bravery to become the legendary leader who stood in the face of what appeared to be an insurmountable English army to defeat Robert the Bruce. It also showcases his ultimate faith in God, even in the face of death.
For this review, I was given the two disk CD set, a printable copy of the Prayer of William Wallace (Psalm 23 in the Latin Vulgate,) "In Freedom's Cause" soundtrack MP3 download, a 30 minute video documentary download titled, "Behind the Scenes in London," unlimited access to the "In Freedom's Cause" Membership Website, a printable promotion poster, a digital study guide, and G.A. Henty's original "In Freedom's Cause" e-Book. All of these items come with the purchase of a Family Four-Pack option (You will get 4 copies of In Freedom's Cause, not just 1 like I received, plus everything else for $99.97 as of February 24, 2015. There is the option of only purchasing 1 set of disks for $29.97 as of February 24, 2015.)
I wasn't really sure what to expect upon receipt of the package. I had gone to the website and researched the product, and I had watched the video and listened to the sample that is provided on he webpage. I was very excited when our package arrived, and we put it to use immediately.
We are out and about frequently, so I opened the package and inserted the first disk into my SUV's CD player. The music started, and the narrator began to set the scene for what was to unfold. I thought perhaps it would be a narrator reading a spoken book with occasional characters speaking their parts. Instead, "In Freedom's Cause" is more like an audio drama that is so engaging, so detailing that you can easily visualize what you are hearing! The narrator returns in between the scenes to wrap up and set up the next scene. It is the characters themselves, and the ambient sounds that paint the picture. You are pulled into this time period, you get to know the characters, you begin to feel as if you are one of them....and you are left wanting more, and not wanting to turn off your stereo until you know how it ends.
I loved it so much that I knew my fiance would love it. We were off on a day trip because I had a photography job in central WV, so I thought this was the perfect time to restart disk one, and finish off disk two. Before the first scene was over, we had both made the comment that this was not an audio book, as I had told him, but more of a reenactment. You can hear the swords clash, the birds chirping, background and ambient sounds abound. You can almost feel the atmosphere. The pictures created in your mind, and the creative ability to picture those images however you like is fantastic.
We were on the way home and passed by an old stone church. My fiance said that's exactly how he pictured a specific place in the story and I laughed because I, too, had pictured it the same way! Frequently, we laughed, and the dialogue and conversation the three of us had concerning this great product has been wonderful!
Study Guide: The disks also come with a digital study guide. The study guide provides a vocabulary list and discussion points arranged in lessons that cover the entire book. This has been great because it not only provides our weekly vocabulary and spelling lists, but it has also given me copywork ideas, writing prompts, as well as the intended discussion starters. It's great for fulling writing, spelling, reading, and language arts, and even art projects....in addition to history! I often used the discussion starts as writing assignments. I would ask my son to write a paragraph or two regarding each specific discussion point, then we would verbally discuss it. Afterwards we would edit the paragraph for language arts. You can use key words for spelling words, also. We used this as a starting point to learn about swords, drawing swords, making swords, etc. Sadly, none of them survived to be photographed HAHA! Give a boy a cardboard sword, and fun will happen!
eBook: I love the eBook because we can read, or listen, again and again. The book is NOT word for word what is on the disk. The book is what the disk is based on. The audio part is like you are listening to a great movie, and the book is what the movie was based on. I used my iPad to browse to the area where I was able to download the book into iBooks. You first download it as a PDF, then choose the option to save to open in iBooks. The color graphics are simple beautiful. You really have to see it for yourself.
Soundtrack and Prayer: The music is relaxing and enjoyable. It is a great asset to our school day since we both enjoy listening to the music while doing our lessons. It is calming, and helps to anchor us to our tasks at hand. The prayer is just beautiful! I have been using it as copywork and memory work.
The prayer was a very special addition. My uncle is very dear to me. When my dad died, my uncle stepped up to help fill that void in my life. He was never asked. No one ever told him he needed to. He just did it because that's the kind of man my uncle has always been. He is now in the final stages of his life, and expected to pass on at any minute. I printed this special prayer as a gift of comfort for his wife.
Membership Website, Documentary, Promotional Poster: The website is nice. I did not utilize it as much. I did note some articles of interest that I plan to explore more in the future. One in particular was a compare of contrast of the movie "Braveheart" and the historically accurate accounts of William Wallace. I found that to be particularly interesting since I rather enjoyed the movie. The documentary is fun because you get to see the actors, and how they pulled off such an amazing audio experience. I did not use the promotional poster, as we are not really poster people, but it did print nicely, and would be a great addition to anyone who is a poster person.
Does "In Freedom's Cause" pass my 4 Main Ingredient test?
1.) Customization: Is it easily adaptable? Can we customize it to fit "us?" Can we modify or set our own schedule? Can we take breaks, jump ahead, or flat out skip?
Yes. We can listen at home or on the go. We can use the study guide in a way that is tailored to our needs. We can set our own pace, as each scene is broken into tracks on the disk, so we can easily pick up where we left off.
2.) Value: Is it long lasting? Will it cover multiple grade ranges? Are you locked in to one specific grade level? Are there hidden fees?
It can be used for multiple grade levels. To me, it's very much like a movie. Would you watch a movie more than once? Do you listen to the same songs more than once? I think as a child grows and matures, they will get more and more out of the lessons. There are no hidden fees.
3.) Attention span: Is it boring? Is it engaging? Is it varied enough for ADHD? Does it last too long?
I wish it lasted longer! It's roughly 2.5 hours total. It is VERY engaging and not at all boring. My son LOVED it. It fostered great discussion, he was very verbal in discussions, and very creative in bringing in his own ideas. We were having a very rough autism/ADHD day when the disks arrived. As soon as I put them in the CD player he calmed down, and began to listen intently. I was amazed. Definitely NOT boring!
4.) Does it tie into other things we already have.