Schoolhouseteachers.com
Yearly Membership Review
For the past couple of weeks, I have been blessed to review a
yearly membership
subscription
for
Schoolhouseteachers.com
, for
The Old Schoolhouse Magazine and The Schoolhouse Review Crew
. You'll find great tips, information and ideas at both links.
About the product:
Schoolhouseteachers.com
, a division of The Old Schoolhouse Magazine, is an online based homeschool site with a great deal of resources from printable worksheets and workbooks to video courses. The courses are archived, so you can start at any time, or even take breaks. There are activities for pre-school all the way through high school, and many items that can be used for both younger grades as well as older grades. With over 100 courses available, there's something for everyone! So go on over and check out a
Yearly Membership
today!.
If you are looking for an internet based homeschool resource, this is the one for you! The site is set up with tabs across the top of the page. These tabs break it down by grade level, and partially by type. There's a tab for all the grade level groups, one for Family, one for Resources, Dailies, and Course Offerings. These are the main navigational tools. After you choose your tab, you are able to navigate the assorted links and options under each. Since my son is mostly doing 4th grade work, we mainly used the Dailies tab and the Pre-K/Elem tab. We incorporated Schoolhouseteachers.com every day in our lessons, and used it as both the main ingredient and the supplement at times. I did find that I had some initial trouble with navigating the site at times, so I recommend taking a few minutes to familiarize yourself with the tabs and resources found under each one. Perhaps you could also use one of the planners found on the site under the Resources Tab, or you can use the Course Planner found under the parent's tab! The great thing about a computer based homeschool subscription is that what you need is always at your fingertips for easy printing.
Here is a Screen Snip of the tabs:
With my son having autism, I look for 4 main ingredients with any paid curriculum or subscription:
1.) Customization: Is it easily adaptable? Can we customize it to fit "us?" Can we modify or set our own schedule? Can we take breaks, jump ahead, or flat out skip?
The answer to all of these is YES with Schoolhouseteachers.com. The classes are not live, so you can start any time you want. There's a great deal of archived material, so you can go back, jump ahead, and even skip over what you don't wish to cover. This is exactly what we did. We used the Science courses, Dailies, French, Geography, Hands on History, Classic History, Literature, Literature Kits, and a few others. Each one was easily adaptable to meet our needs. Again, because it is an internet based homeschool resource, it is easy to change direction when needed. One way I adapted the site to fit us was to repurpose the copybook pages. I took a Christmas themed copywork page, printed it off, and used it as a writing assignment (Letter to Santa) that I had already planned. You could also print these in black and white, like I did, and have your child color the pictures.
Look over the mess handwriting, we're working on that!
2.) Value: Is it long lasting? Will it cover multiple grade ranges? Are you locked in to one specific grade level? Are there hidden fees?

This subscription is a GREAT value. Membership is only $139.00 for the year, or $12.95/month. Right now, there is a Christmas Special, so if you sign up before 11:59pm (EST) on Dec. 25, 2014 you will get 40% off the monthly plan (making it $7.77/month) or 50% off the yearly membership ($64.26.) And the best part is, you will get to keep this special price for as long as you maintain your membership! The price is per family, not per student, and you are not locked into a single grade level at all. Instead, you have the ability to pick and choose from anything on the site. There are NO
hidden fees. Your membership fee covers everything for the full year. Of top of that, there's a LOT of material and resources here! Here's a screen shot of the French PDF to show you just how large the
resource is. It was over 89MB!
You can try it out for free for 30 days, or if you want to get a sample you can visit their
Site Directory
to get samples of the classes. Click the banner below to take advantage of the fantastic Christmas sale!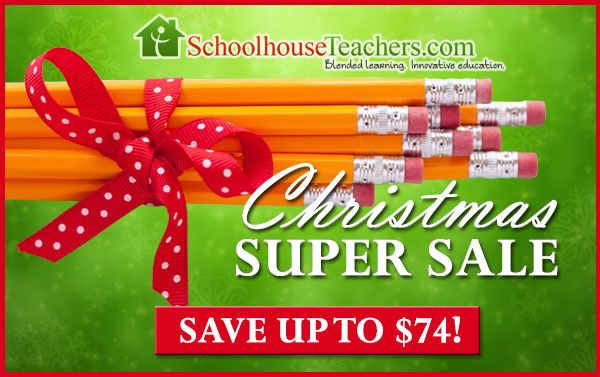 3.) Attention span: Is it boring? Is it engaging? Is it varied enough for ADHD? Does it last too long?
The courses on Schoolhouseteachers.com are not boring at all. The lessons are not too short, but they are not long either. The worksheet printables for the elementary levels are long enough to cover the material, but not so long that a child has to spend a great deal of time going over them. My son could complete a worksheet in 5-10 minutes, give or take his desire to work on it. The courses are engaging, and he really enjoyed the lessons. We utilized the video lessons with the science, and Mr. Science's videos are around 1 minute each. They cover the experiment, yet are short enough to maintain a youngster's attention. There are also experiment sheets one can download so that you can do your own. Classic History also had some really fun activities and color sheets. Here's a sample of one of the coloring sheets:
The math isn't your run of the mill math, either. Skip counting is much more than just 5, 10, 15. Here's a selection from one of the skip counting worksheets:
Most of the math worksheets I printed off had the answers, in a very small box, on the front of the sheet. So you may need to cover this with another sheet of paper, or cut it out. This was my only fault with any of the printable resources. Here's a photo to show you what I mean:
Another thing I appreciate is the variety. We have done a lot of worksheets that cover Synonyms and Antonyms. How many times can a kid connect large and big, small and little, etc. The words on these worksheets are a lot different. Close and shut for example, or happy and joyful.
4.) Does it tie into other things we already have.
The answer is again, YES! I noticed a lot of tie-in possibilities, but I'll highlight two. Classical History ties into Classical Conversations, if you are a part of that. There are selected readings from CC books, as well as activities, such as making a clay tablet with Cuneiform writing. The Literature covers well known books that many probably already have in your home libraries. I was very excited to see that December's Literature course was on The Magician's Nephew, as we've started reading that. And the lessons cover a wide range of lessons such as plot, setting, theme, conflict, etc.
Overall:
Overall, I love the subscription and plan to use it a LOT. I have a lot of things planned out now, and a lot of fun activities on the schedule. I highly recommend you check it out, and try it out for yourself. You won't be disappointed!
For more greatness from The Old Schoolhouse's Schoolhouse Teachers, check them out on Facebook and Pinterest!
Schoolhouse Teachers Facebook Group
Schoolhouse Teachers Pinterest Page
If you want to read more reviews like this, Click the Banner below!